2022 -23 Winter Sports Programs
We offer athletes the opportunity to play Basketball at 3 different levels - Skills, Half Court or Full Court. Come out and test your skills on Sunday, December 11. You can also join our Cheer Team. They preformed at the Opening Ceremony of the Special Olympics Virginia Fall State Games in Virginia Beach and also cheer on our sports teams each season.
Special Olympics Polar Plunge is on Saturday, February 4, 2023. Chesapeake's team is CHESAPEAKE ATHLETES, Area 2
SCHEDULE CHANGES FOR THE POLAR PLUNGE 2023
Please note that the time for the PLUNGE this year has changed to 1 PM
Our team will meet for photos in the big tent from 11:45 to 12:30
Be sure to register your donations and get your plunge number and other incentives at LOCAL REGISTRATION on the second floor of the Oceanfront Hilton. This opens at 10 am as well as registration for the costume contest if you want to be in the parade. 10:30 am Costume Parade on the Boardwalk, 12:15 Opening Ceremony in the tent, 1:00 pm PLUNGE!
There is still a week left to donate to the Chesapeake Athletes Team. We have reached $15,000 and we are going for $20,000 and beyond.
The Polar Plunge is Special Olympics Virginia's largest fundraiser, attracting more than 10,000 people to the oceanfront in February. The fundraising done at this event pays for most of the expenses of our program - which is free to all athletes.
Our Chesapeake program costs $30,000 a year for uniforms, entry fees for local and statewide competitions, facility fees, travel expenses including van rental, gasoline, meals, and housing. Every contribution to Special Olympics is tax deductible, and you will get a receipt when you donate online.
You can help us raise these funds by joining the CHESAPEAKE ATHLETES, Area 2 team. Plunge or help raise money for our team. Use your Fundraising page to send out to friends and family to collect donations.
Our athletes come out each year and brave the cold to support their team and our Chesapeake program. To join our CHESAPEAKE ATHLETES TEAM Click Here
We give everyone that plunges on our team a colorful Chesapeake Athletes Team Shirt to wear at the plunge. Thank you to our generous sponsors for our shirt this year: Armada Hoffler, Bubba's 33, Chesapeake Machine Works, Courthouse Cafe and MSP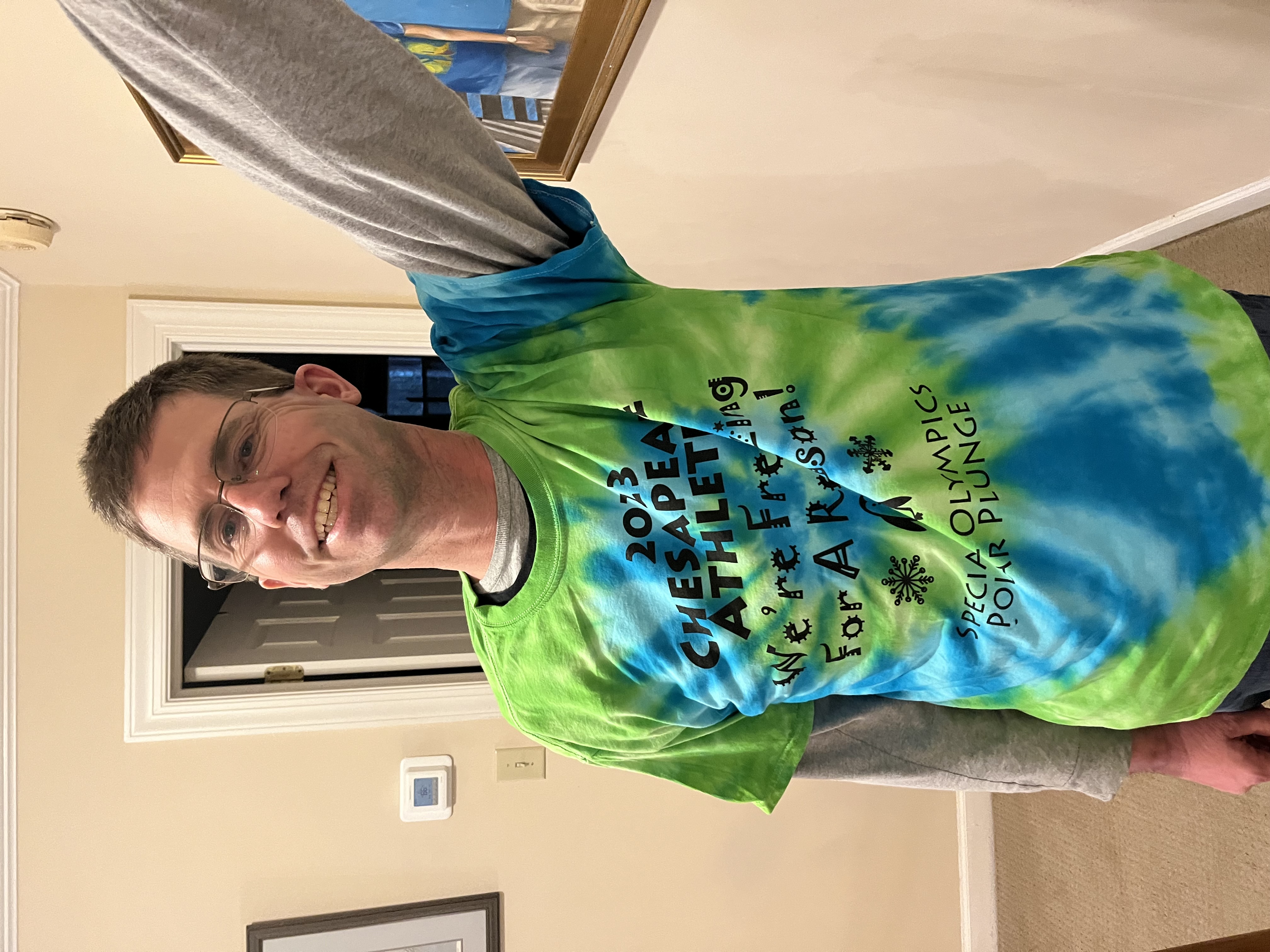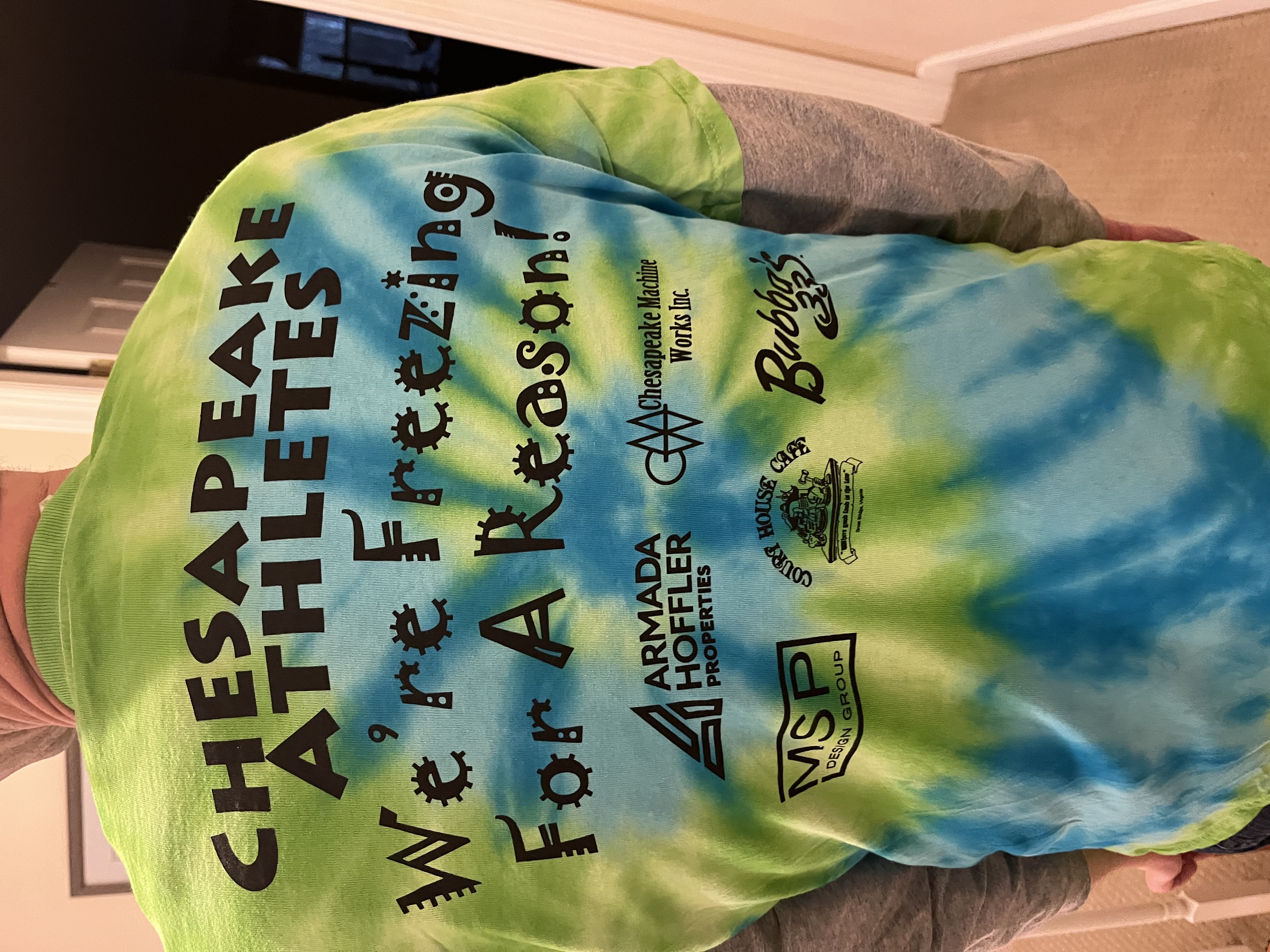 Join our Chesapeake sports program as an Athlete or Volunteer.
We invite you to volunteer with our program. If you are interested please go to the
volunteer page
and fill out the appropriate forms. If you have questions contact Sherry York at 4yorkfamily4@cox.net
If you have an athlete that would like to join our program and participate in a sport please go to the
athlete page
and review the information. You need to have your
medical
completed prior to joining an activity in our program. If you have questions about the medical form contact Partice Dykes at patrice.sochesapeake@gmail.com
If you are a current athlete your medical needs to be updated every three years. If you are going to the doctor be sure to check to see if your medical needs to be updated. This is the updated
medical form
your doctor needs to fill out.
Chesapeake Monthly Council Meetings
We welcome all parents and volunteers to join us at our monthly council meetings. It is your chance to share suggestions with us and help us build a stronger program for our athletes. Our September Council Meeting is on Tuesday, February 7 at 6:30 pm. We are having Zoom meetings so if you would like to attend email Sherry York at 4yorkfamily4@gmail.com