Fall Sports start in mid-August. Soccer starts on Sunday, August 20 at Deep Creek Park from 1:30 to 3. Golf begins on Wednesday, August 23 at Chesapeake Golf Club from 6 to 7. Bowling starts on Friday, September 8 at AMF Bowling Center at 6 pm. Come out and improve your skills and see your friends.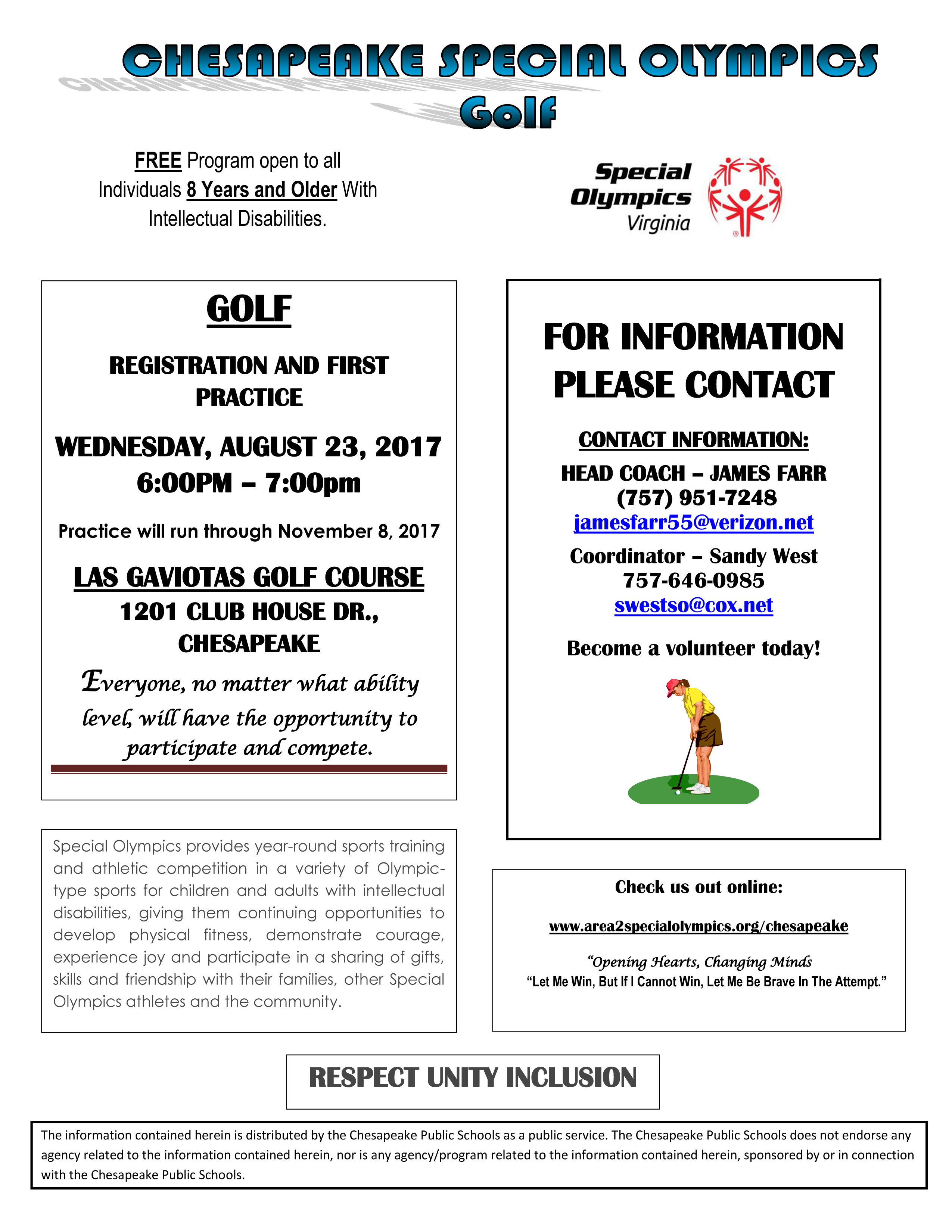 Chesapeake Monthly Council Meetings
We welcome all parents and volunteers to come out join us at our monthly council meetings. It is your chance to share your suggestions with us and help us build a stronger program for our athletes. Our September meeting is on Tuesday, September 11 and we meet again on Tuesday, October 3 and Tuesday, November 6. We usually meet the first Tuesday of every month at AMF Bowling Alley in the meeting room, 112 Medical Parkway, Chesapeake. We plan all of our events, sports, picnics and other programs and need your input and assistance to help our program continue to grow and stay strong.
Spring Sports & Year End Picnic
All of our athletes had a exciting Spring Season. We had a large group of Chesapeake Athletes at the Virginia State Games in Richmond this year. Our softball team, bowlers, tennis players and track and field athletes really showed off their great skills and won many gold, silver and bronze metals. We are very proud of them and their success at the games.
We finished off the season with a great All American Picnic at Deep Creek Park. We had about 150 Athletes and their families come out and enjoy some fantastic music by our DJ Larry Ratliff, and a yummy dinner of pulled pork, fried chicken, beans, and all the fixings. Everyone also loved all of the magic tricks performed by our talented magician. The Yearly Athlete Awards for each sport were given out for each sport. We are so proud of all of our Chesapeake Special Olympics Athletes and all they accomplished this year. GO TEAM CHESAPEAKE!
Polar Plunge 2017
We had a great turnout of athletes, family and friends at the POLAR PLUNGE on February 4. It was a cold day but the sun was out and we were "Freezing For A Reason". We raised a lot of money to help our team buy uniforms, go to the state tournaments and continue to add new athletes to our great program. Thank you to everyone who came out to the plunge and all of our family and friends that donated to a great cause.