Winter Basketball Practice starts on Sunday, December 1.
Come out and join our Basketball Program with three different skill levels. We have a full court team, several half court teams and a skills team. Get some exercise this winter and meet some new friends. If you are new to our program you must have a Special Olympics medical completed by your doctor prior to the first practice.
Athlete Medical
If you are a current athlete your medical needs to be updated every three years and must be current for the entire sports season you are participating in.
First Fundraising Golf Tournament at Greenbrier Country Club.
We had our First Annual Fundraising Tournament on Monday, September 16 at Greenbrier Country Club. We want to thank all of our sponsors as well as all of the golfers, volunteers and athletes that made this event a big success. It was a beautiful day and everyone had a fabulous time playing golf. In Special Olympics everyone is a winner so we had prizes ready for every golfer. Thank you to everyone who donated a prize for this tournament.
A special thanks goes out to Martha Williamson and Sherry York for taking the lead on this amazing fundraising event. Thanks also to all of our committee members who worked hard to make this come together.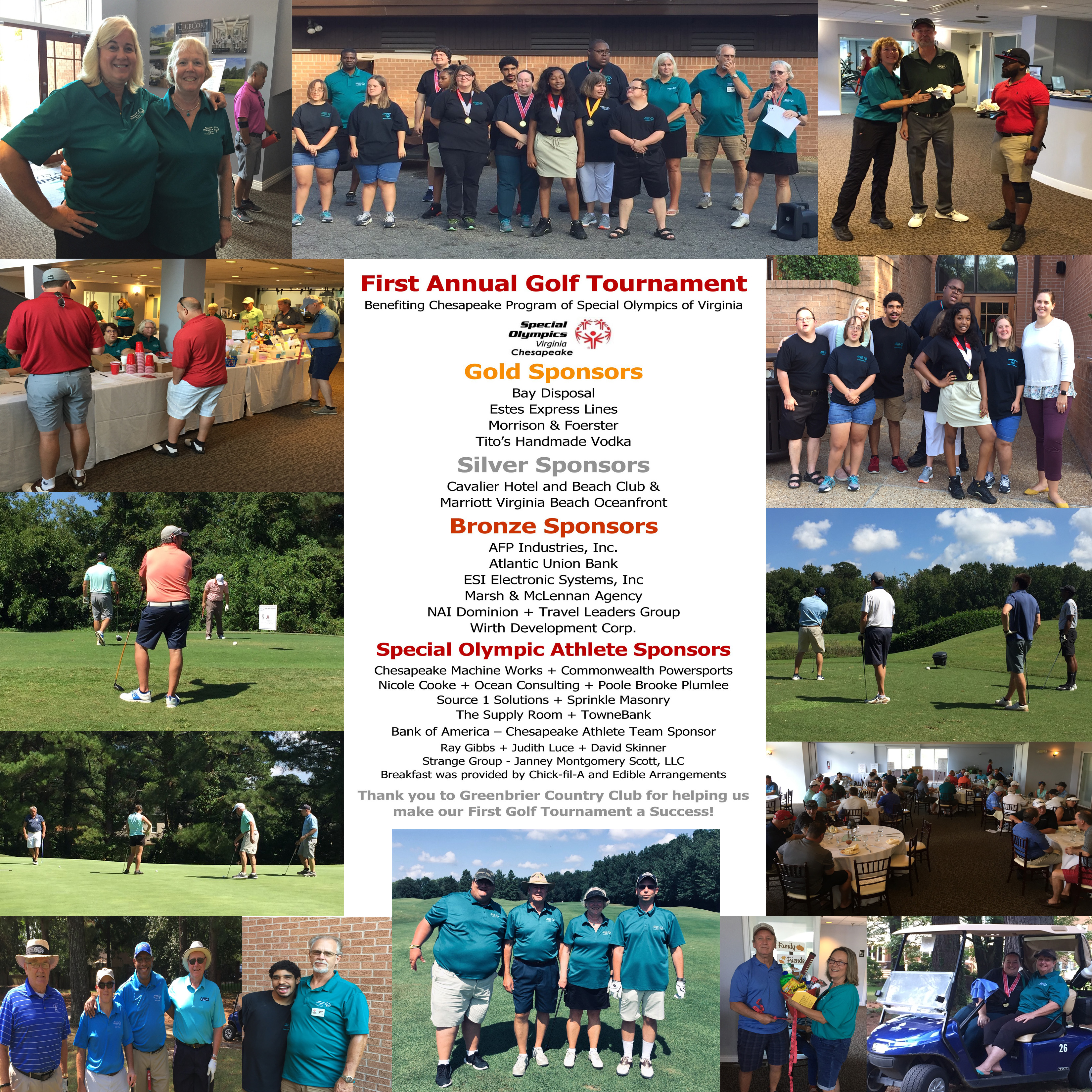 Join our sports program as an athlete or volunteer.
We invite you to volunteer with our program. If you are interested please go to the
volunteer page
and fill out the appropriate forms. If you have questions contact Sherry York at yorkfamily4@cox.net
If you have an athlete that would like to join our program and participate in a sport please go to the
athlete page
and review the information. You need to have your
medical
completed prior to the first practice of the season.
If you have questions about the medical form contact Partice Dykes at patrice.sochesapeake@gmail.com
Chesapeake Monthly Council Meetings
We welcome all parents and volunteers to come out join us at our monthly council meetings. It is your chance to share your suggestions with us and help us build a stronger program for our athletes. Our December meeting is Tuesday, December 3. We usually meet the first Tuesday of every month at 6:30 pm at Greenbrier Christian Academy, 311 Kempsville Rd, Chesapeake, VA 23320. We plan all of our events, sports, picnics and other programs and need your input. We need your assistance to help our program continue to grow and stay strong.
Polar Plunge 2020 will take place on February 8, 2020
The Polar Plunge Team for 2020 is up and ready for you to join our team. Go to
CHESAPEAKE ATHLETES AREA 2
and join the team to create your page. There is more information on our
Events page.