Winter Basketball starts on December 2
Come out and have a great time participating in Basketball this winter. Please Note this is a NEW location!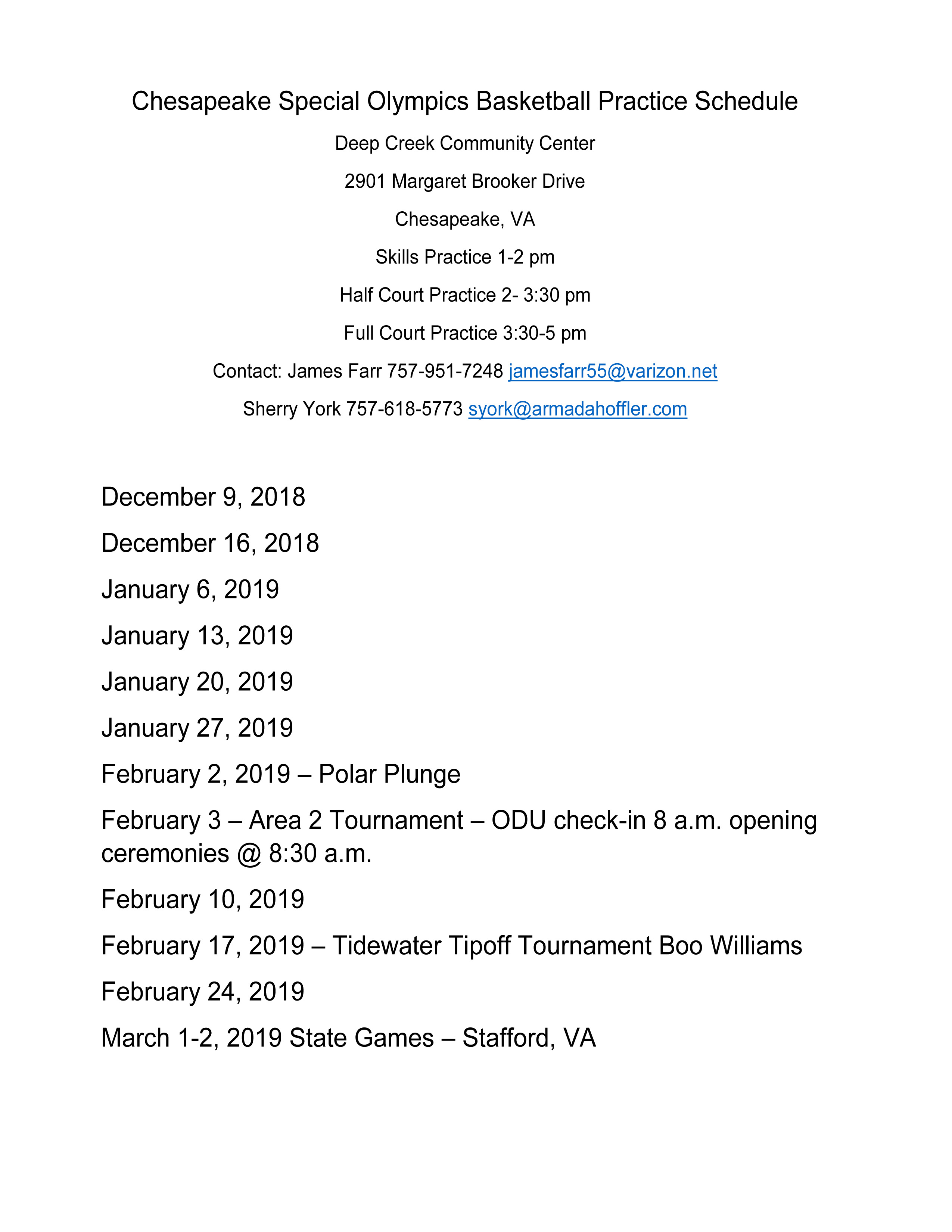 Chesapeake Monthly Council Meetings
We welcome all parents and volunteers to come out join us at our monthly council meetings. It is your chance to share your suggestions with us and help us build a stronger program for our athletes. Our February meeting is Tuesday, February 5 and the March meeting is Tuesday, March 5. We usually meet the first Tuesday of every month at 6:30 pm at our new location - Greenbrier Christian Academy, 311 Kempsville Rd, Chesapeake, VA 23320. We plan all of our events, sports, picnics and other programs and need your input. We need your assistance to help our program continue to grow and stay strong.
Polar Plunge 2019
Once you join and set up your page send out your page via email or on facebook to family and friends asking them to support you and your team.
The Polar Plunge is Special Olympics Chesapeake largest fundraiser. The fundraising done at this event pays for most of the expenses of our program - which is free to all athletes. The money that is raised goes directly to the program to pay for uniforms, sports activities, equipment and travel and expenses at statewide competitions. Your donation is tax deductible and you will recieve an online receipt when you make a contribution.
Once you collect your donations on line or offline you need to take them to the Oceanfront Hilton at 3100 Atlantic Avenue. They will be open on Friday, February 1 from 2 to 7 and on Saturday at 10 am. You need to go to the room for LOCAL registration and turn in your online and off line donations. Be sure to tell them to apply it to Chesapeake Area 2. They will give you the badge to wear on your shirt the day of the plunge.